While these hikes are obviously open to anyone, regardless of gender, this article was written to answer a specific question: "I am a single female who likes to hike solo, where can I can I hike around Asheville that will feel safe and open, where I won't feel alone?"
Nestled in the picturesque Blue Ridge Mountains, Asheville, North Carolina, is a paradise for nature lovers and outdoor enthusiasts. With an abundance of day hikes and hiking trails within easy access, the region offers an array of hiking opportunities. This article covers trails with plenty of open space and foot traffic, trails on which a woman can feel safe while hiking alone. Here we explore some of the most accessible and scenic trails in and around Asheville.
The North Carolina Arboretum:
The North Carolina Arboretum, located a short drive from Asheville, boasts 10 miles of diverse walking trails suitable for all skill levels. For women seeking a leisurely hike in a serene environment, the Arboretum is a perfect destination. The easy-to-navigate trails meander through a collection of beautifully landscaped gardens, encompassing a wide variety of native plants and flowers.
The Arboretum's well-maintained paths and numerous informational markers make it an ideal spot for self-guided exploration. Hikers can bask in the tranquility of Bent Creek and enjoy the peaceful ambiance of the Blue Ridge Mountains. Additionally, the Arboretum offers educational programs, workshops, and seasonal events that enhance the hiking experience for solo travelers.
Locals should consider an annual membership.
Biltmore House and Gardens:
The Biltmore Estate, a renowned historic landmark in Asheville, boasts an extensive network of walking trails, 22 miles, suitable for hikers of all ages and abilities. The Estate's scenic gardens and manicured landscapes provide a delightful backdrop for a leisurely stroll or an easy hike.
Explore the gardens surrounding the Biltmore House, offering breathtaking views of the French Broad River and the Appalachian Mountains. During specific times of the year, visitors can witness the vibrant colors of the seasonal blooms, enhancing the charm of the hike. The well-maintained trails and security measures in place make it a safe and enjoyable destination for solo hikers.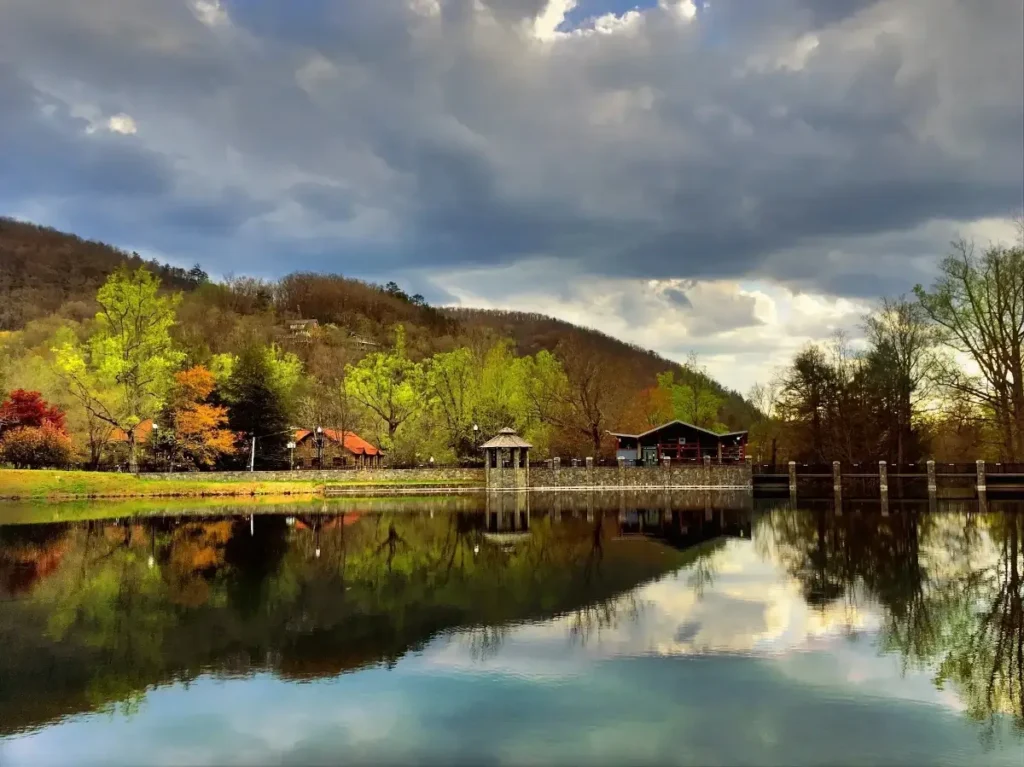 Montreat:
Nestled amidst the Montreat Wilderness, this quaint town offers a range of hiking opportunities that cater to various experience levels. Hilers can explore the area's peaceful trails, which meander through lush forests and alongside pristine creeks.
Montreat's vast network of trails includes both easy and moderate options, such as the Rainbow Road and Lookout Trail Loop, which leads to spectacular views and picturesque picnic spots. Solo hikers can relish the tranquility and solitude of the Montreat Wilderness, ensuring a safe and peaceful day hike.
Dogs are allowed, but must be kept on a leash.
Craggy Gardens and Graveyard Field (Blue Ridge Parkway):
The Parkway is renowned for its stunning vistas and countless hiking trails. The Craggy Gardens area and Graveyard Field, in particular, offer easily accessible day hikes that captivate hikers with their natural beauty.
Take a leisurely stroll along the Craggy Gardens Visitor Center trails, where you will be greeted with vibrant rhododendron blooms during the spring and summer months. The Graveyard Fields, on the other hand, boast picturesque waterfalls and abundant blueberry bushes in the summer, making it an enchanting place for solo hikers to connect with nature.
DuPont State Forest:
DuPont State Forest, a short drive from Asheville, is a hiker's paradise. With its well-marked trails and awe-inspiring waterfalls, it offers numerous options for those seeking easy yet rewarding day hikes.
High Falls, Triple Falls, Hooker Falls, and Big Rock are some of the better options for solo hiking where you're sure to see other people. The High Falls Trail leads hikers to an impressive 120-foot waterfall, creating an exhilarating experience for solo adventurers. The Triple Falls Trail is another scenic route, guiding hikers past three cascading waterfalls with picture-perfect views.
Bearwallow Mountain Trail:
For those looking to challenge themselves with a hike that rewards with breathtaking panoramic views, Bearwallow Mountain Trail is an excellent choice. Though considered a moderate hike, the trail is wide and well-maintained with lots of visibility as it switches back and forth towards the summit.
At the summit, hikers are treated to awe-inspiring vistas of the surrounding mountains and valleys, making the effort worthwhile. Much of rural Buncombe and Henderson Counties can be seen from the top, as much of the Asheville area. Bearwallow Mountain is renowned for its population of grazing cows, offering a unique and charming experience for hikers.
Pink Beds:
Situated within the Pisgah National Forest, the Pink Beds area offers a network of easy trails, perfect for a peaceful and leisurely hike. The trails meander through lush forests, alongside babbling streams, and amidst vibrant wildflowers, creating a picturesque setting for nature enthusiasts.
The Pink Beds Loop Trail is a particularly popular route, providing a gentle hike through the heart of this beautiful region. Solo hikers can immerse themselves in the serenity of nature and enjoy birdwatching opportunities along the way.
Devil's Courthouse:
For adventurous women looking to explore a more challenging hike, Devil's Courthouse offers a thrilling experience. The trail ascends steeply, but the rewarding panoramic views from the top are worth the effort. The summit at 5,720 feet, and affords visitors views into South Carolina, Georgia, and Tennessee in a 360-degree panorama that is stunning to behold.
Located along the Blue Ridge Parkway, Devil's Courthouse is a rock formation that legend suggests was once a gathering place for Cherokee shamans. Solo hikers can marvel at the breathtaking views, witness the unique flora and fauna at higher elevations, and soak in the historical and cultural significance of this landmark.
The area is home to several rare species of plants, so please stay on marked trails to avoid damage.
Hiking Clubs:
Hiking clubs can be a great option for those new to an area, those looking to make hiking buddies, or for those who just don't feel comfortable hiking alone, no matter how open or busy the trail system.
1. Girls Who Hike NC:
Girls Who Hike NC is a community of women passionate about hiking, nature, and adventure. This club provides a supportive environment for women to connect, participate in group hikes, and share their hiking experiences. By joining Girls Who Hike NC, female hikers can access valuable information about the best trails, safety tips, and group hikes, enhancing their overall hiking journey.
2. Carolina Mountain Club:
The Carolina Mountain Club is one of the oldest hiking clubs in the Asheville area. This well-established organization offers a plethora of hiking opportunities for hikers of all levels, including numerous easy and safe day hikes. Members can participate in group hikes and social events.
3. Black Girls Hike:
Black Girls Hike is a national organization that encourages women of color to explore the outdoors and embrace the joys of hiking. With a mission to promote inclusivity and diversity in the outdoor community, Black Girls Hike welcomes black and brown women of all backgrounds to join their group hikes and outdoor activities. Through this supportive community, solo female hikers can connect with like-minded women, fostering a sense of belonging and empowerment in the great outdoors.
Final Thoughts
Asheville, NC, and its nearby surroundings offer an abundance of easy and safe day hikes for women to explore the natural wonders of the Blue Ridge Mountains. Whether it's the enchanting trails of the Arboretum, the waterfalls of DuPont State Forest, or the 360 degree views from atop the Devil's Courthouse, the Asheville area has something for everyone.
Safety is paramount for any hiker, especially those exploring the trails alone. Before setting out on any hike, research the trail, check weather conditions, and bring essential gear, including water, snacks, a map, and appropriate clothing. It's also advisable to inform someone trustworthy about your hiking plans and expected return time.
Happy hiking!