Summer is here, and it's a fantastic time to take the family shark tooth hunting in North Carolina!
Millions of years ago, when the seas teemed with marine life, sharks prowled the waters, shedding their teeth throughout their lifetimes. Over time, these teeth settled and fossilized, becoming buried beneath layers of sediment.
Today, as tides shift and erosion occurs, the fossilized shark teeth resurface, glistening like hidden jewels, ready to be discovered by enthusiastic NC beachcombers. While not strictly jewels, sharks' teeth are often turned into shark tooth necklaces and other jewelry. Even more treasure-like, a giant Megalodon tooth can sell for hundreds, even thousands of dollars. So let's get hunting!
First, put together your shark tooth dig kit. What you'll need:
Shovels or trowels – you probably have these
5 gallon buckets – you can get these at the hardware store, but you can also often find them used for as little as a dollar apiece on Craigslist
A good bucket top classifier screen – they use these for gold prospecting, but they also work great for hunting shark teeth. Go with a #4 (¼" mesh)
Now that you have your kit kitted out, where do you go?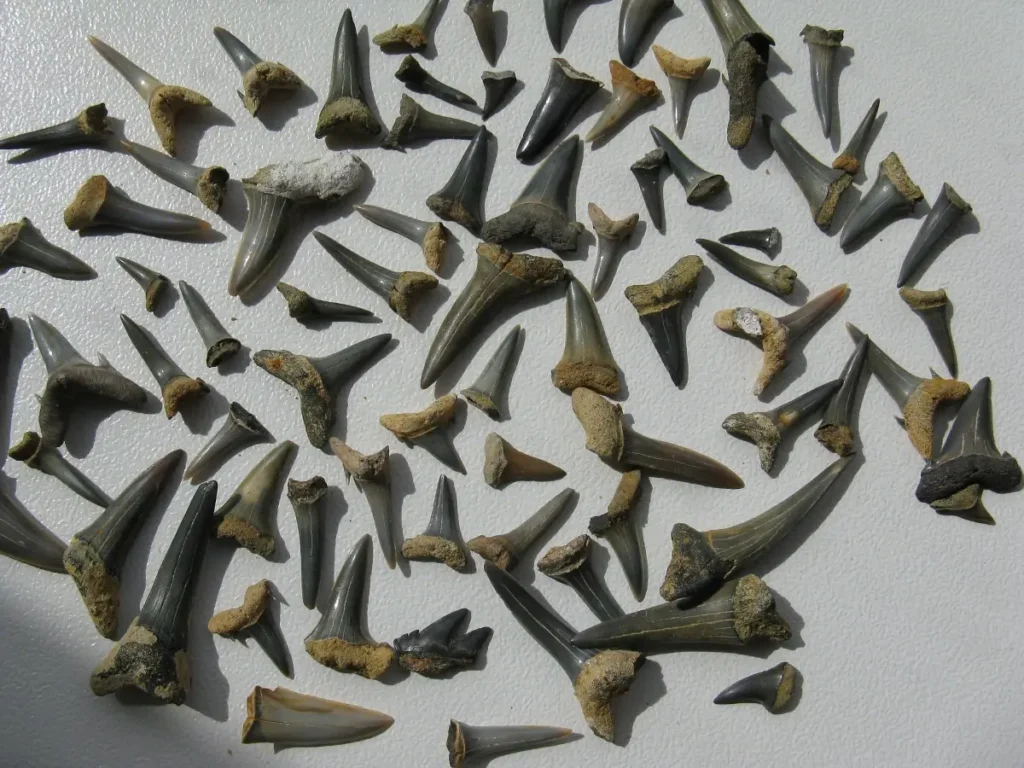 In North Carolina, these are some of the more popular shark tooth hunting hot spots:
Shark Tooth Island
Shark Tooth Island is a man-made island in the mouth of the Cape Fear River. Its official name is Hollis Island. The island was made from sand and silt dredged from shipping channels in the 1800s. This sediment is estimated at 35 to 40 million years old, hence fossilized shark teeth!
There are no roads, but the island can be reached by kayak. Its appeal lies in the abundant supply of shark teeth scattered along its shores, offering a unique opportunity to search for these ancient marine treasures.
Shark Tooth Island's treasure hunts often begin with the ebb and flow of the tide, as low tides expose a vast expanse of beach, unveiling the coastal bounty hidden beneath the sand.
Finding shark teeth on Shark Tooth Island is both a rewarding challenge and a delightful adventure. Enthusiasts armed with keen eyes and a sense of curiosity scour the shores, scanning the sand for telltale black triangles and jagged edges. A serendipitous moment of discovery sends pulses racing, as the gleaming relic of prehistoric times is revealed.
Topsail Beach
Known for its soft sandy beaches and beachcombing, emerald waters, and charming beach town vibe, Topsail Beach is a true coastal paradise that enchants visitors year-round.
For those seeking a glimpse of history, the nearby Missiles and More Museum showcases the island's significant role during World War II as a location for missile testing. Additionally, the island's maritime history is celebrated through various festivals and events that pay homage to its seafaring heritage.
Topsail Beach's allure lies not only in its scenic landscape but also in its warm hospitality and a sense of community. Welcoming beach rentals and charming local eateries offer a taste of coastal living, ensuring a memorable and relaxing experience for visitors of all ages.
Wrightsville Beach and Megalodon Teeth
Wrightsville Beach, located along the southeastern coast of North Carolina, is renowned not only for its sandy shores and inviting waters but also for its fascinating connection to prehistoric marine life. This picturesque stretch of beach is known for ancient megalodon teeth.
Megalodon, the colossal prehistoric shark that once roamed the Earth's oceans millions of years ago, left a remarkable legacy in the fossil record. Today, as ocean currents shift and erode the coastal cliffs, the ancient teeth of these magnificent creatures emerge, waiting to be discovered by beachcombers and fossil enthusiasts.
The thrill of finding a megalodon tooth is unparalleled. Measuring from several inches to over half a foot in length and boasting a distinctive triangular shape with serrated edges, these fossilized teeth serve as tangible remnants of a bygone era. Holding a megalodon tooth in one's hands is like holding a portal to the past, transporting the imagination to a time when these colossal predators ruled the seas.
While the likelihood of finding a megalodon tooth at Wrightsville Beach is a matter of chance, the pursuit of these elusive treasures on a stretch of beautiful beach is its own reward.
Emerald Isle
Nestled along the picturesque Crystal Coast, Emerald Isle is a charming barrier island that embodies the essence of coastal beauty and serenity. This idyllic destination boasts pristine sandy beaches and the shark teeth they offer up, emerald waters, and a laid-back atmosphere that captivates visitors seeking a tranquil escape.
As the name suggests, Emerald Isle is renowned for its stunning emerald-green waters that gently lap against the shores. The vibrant marine life, crystal-clear waves, and ample opportunities for water sports make it a haven for beach lovers and outdoor enthusiasts alike.
The island's natural beauty is further complemented by its commitment to preservation and sustainability. Visitors will find an abundance of maritime forests, protected dunes, and marshlands that offer a glimpse of the island's diverse ecosystems and wildlife.
For those seeking relaxation, Emerald Isle provides ample opportunities to unwind. Stroll along the sandy shores, collect seashells and sharks' teeth, or simply bask in the sun while reveling in the calming sound of the ocean waves.
As the day comes to a close, the island's enchanting sunsets paint the sky with a kaleidoscope of colors, providing a perfect backdrop for romantic evenings and unforgettable moments.
Carolina Beach
Carolina Beach, a coastal gem tucked along the southern shores of North Carolina, is an East facing beach, with currents that wash many shark teeth ashore. Teeth on these shores are more likely to be from smaller species, but their abundance make it an excellent beach for hunting, and larger teeth can be found. A lucky few find larger, tiger shark and great white shark teeth.
The island's popular boardwalk and pristine beaches make it an excellent destination for beachcombers and sun-seekers alike to bask in the sun and frolic in the waves. Surfing enthusiasts are drawn to the Atlantic swells, while the nearby Carolina Beach State Park offers opportunities for kayaking, hiking, and exploring diverse coastal ecosystems.
In the evenings, the island comes alive with entertainment, as beachfront restaurants and bars offer live music and delectable seafood dishes, creating a vibrant nightlife that complements the coastal serenity of the day.
Hunting Shark Teeth on the Outer Banks
The Outer Banks of North Carolina, a string of barrier islands stretching along the Atlantic coast offer some great beach combing opportunities. In particular, Nags Head and Ocracoke Island are great spots for unearthing shark tooth hunting.
Nags Head, known for its wide beaches and stunning dunes, is a popular spot for shark tooth hunting. During low tide, beachcombers are drawn to the shoreline, where the ebbing waters expose sandbars and pockets that are prime locations for finding these ancient treasures. With keen eyes and a bit of luck, visitors can uncover the distinctive triangular shapes of shark teeth glistening amid the sand.
Ocracoke Island, a remote and serene destination accessible by ferry, offers a more secluded shark tooth hunting experience. Its quiet and untouched beaches create a sense of adventure as seekers comb through the sands, anticipating the thrill of discovering fossilized remnants of prehistoric sharks.
While hunting shark teeth is a fun and exhilarating activity for the whole family, it is important to approach it responsibly and ethically. Preservation and conservation of our beaches and wild areas is critical to their preservation for future generations. Visitors are encouraged to practice "leave no trace" principles, respecting our natural habitats and ecosystems.